Vega supplies a range of templates for you to edit and personalise with your organisation's logo and text content. You can use Vega templates to create:
EDM Appeals & Campaigns
eNewsletters
Letters
Tax Receipts
Email Receipts
Emails
Website Widget Notifications


To create a template go to the Admin Section in Vega if you cannot see this on your main top menu bar, you may not have the authorisation to access it and will need to seek permission from your System Administrator.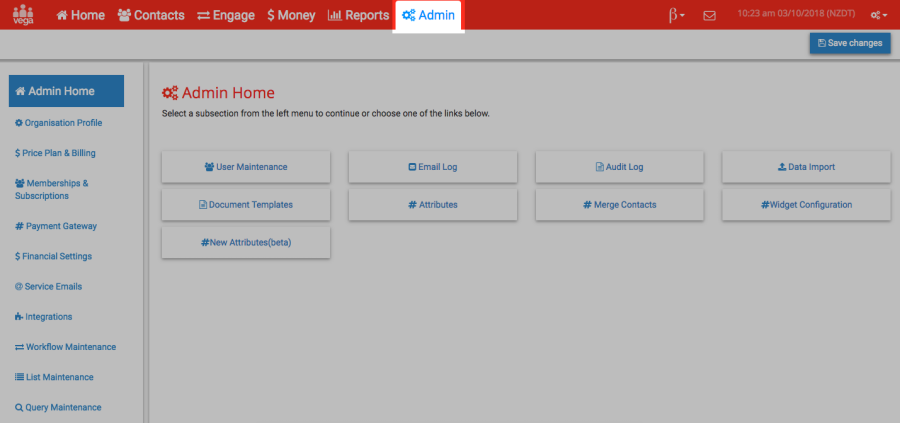 Click on the Document Templates button, which will take you into the Template Manager where you can create and manage all your templates and documents.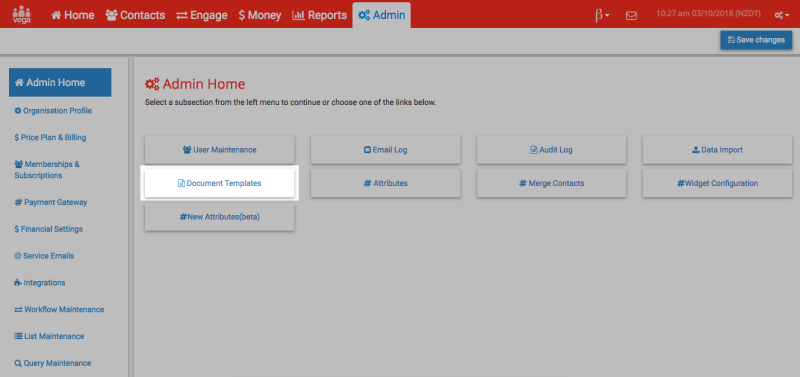 In Template Manager click the

+New

button and scroll through the Vega default templates until you find an appropriate template for your communication. If you know the name of a predesigned template you use the Search bar to quickly find it.
Select the template you require and click the Use Template button on the right-hand side to use or edit this template. 
The next screen will enable you to Save Your Template and complete a

Template Name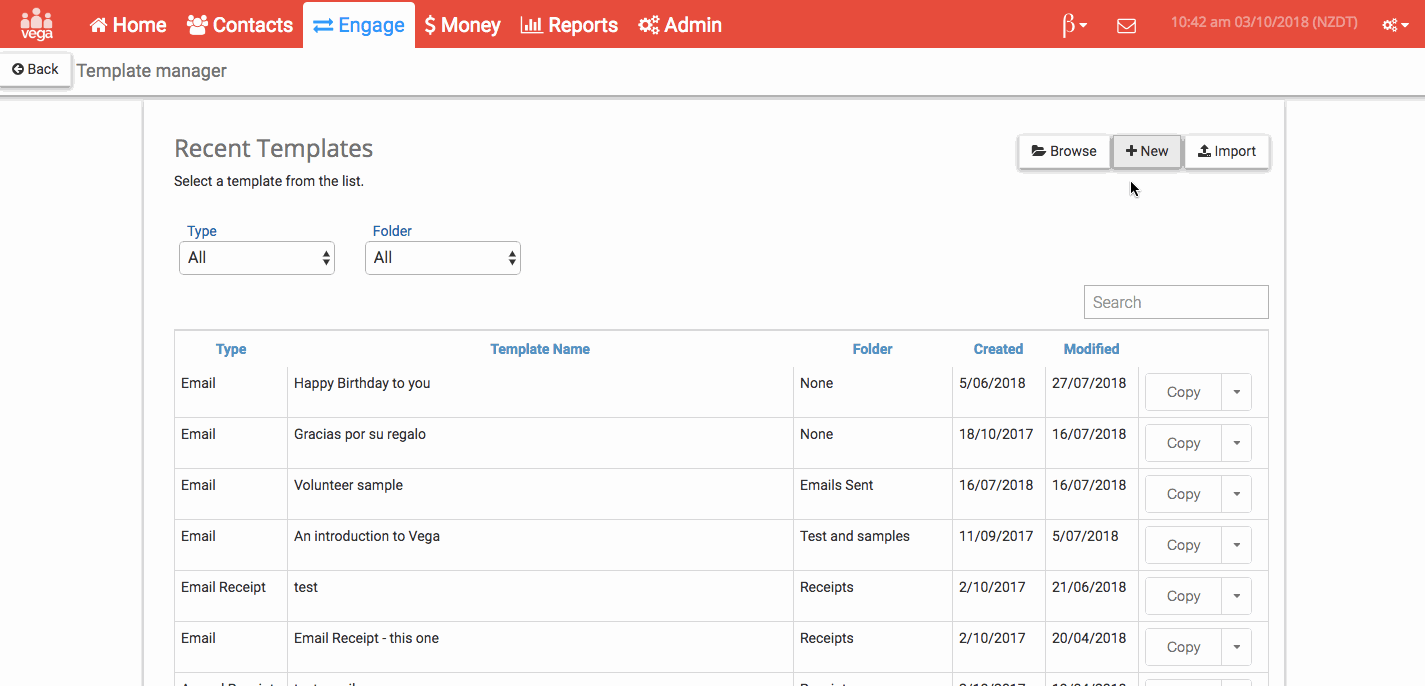 Complete a

Subject

 line the suggested text includes a merge field with supporter name (for email only) for extra personalisation. This does not need to be completed for PDF Letter documents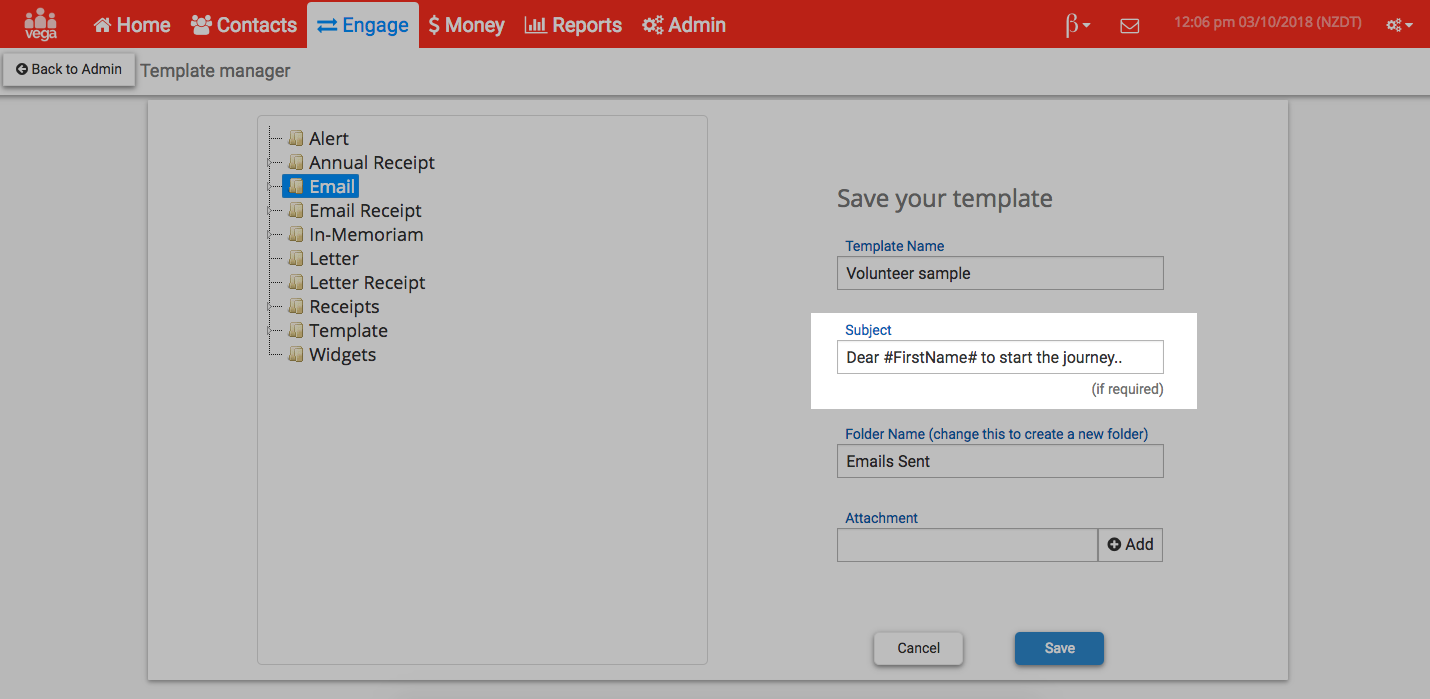 Complete 'Folder Name', you can change this file name to create a new folder
Click the blue 'Save' button and you will receive a green message box in the top left-hand corner to confirm the 'Document Saved'
You can review or print all your saved documents in 'Template Manager'
'Cancel'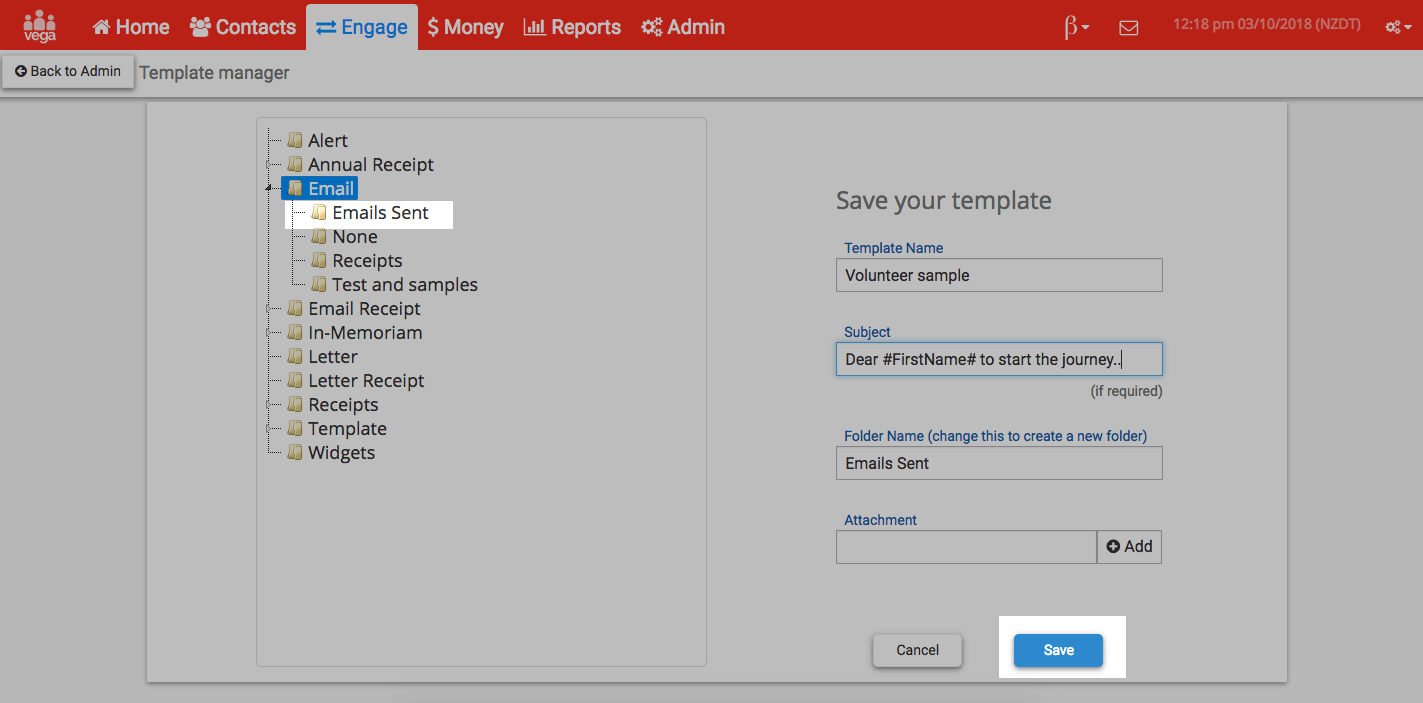 Copy Templates
On the template name right-hand side, click on Copy to create a copy of the document, the copy will be automatically allocated in the same folder the original template is saved under. Use the Type and Folder drop-down functions to find the new copy or for a quick access type 'Copy' in the Search bar:

The next screen will open a copy template for you to edit with your images and text to create a beautiful document for you to engage your supporters
When completed, click the blue Save button in the top right-hand side
Complete a Template Name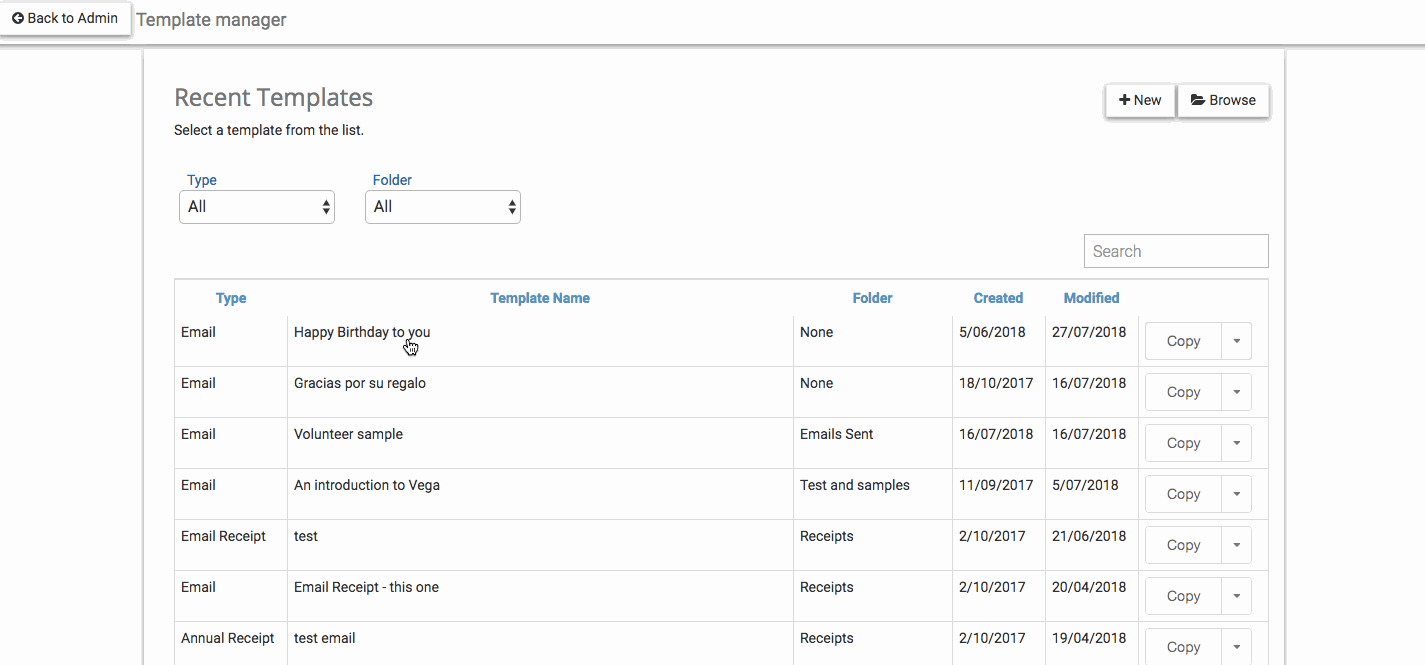 Use the 'Save As' Function to

Move a template to a different folder


You may also need some time to move documents to different folders. To do that, inside a template click on the option Save - Save As located on the top right of the page. Here you can click on an existing folder or enter the name of a new folder in the 'Folder Name (change this to create a new folder)' field.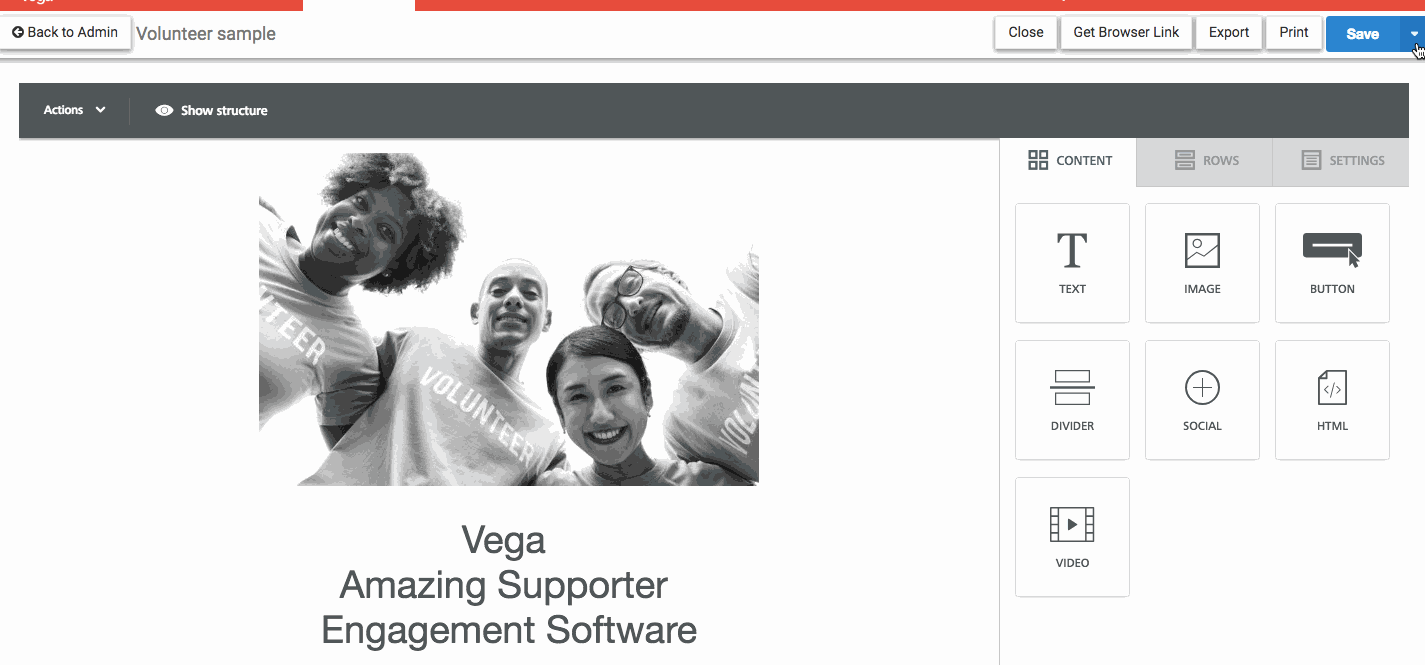 Amend or add a subject line


The 'Save As' function will also allow you to amend or add the subject line in the receipts or document templates.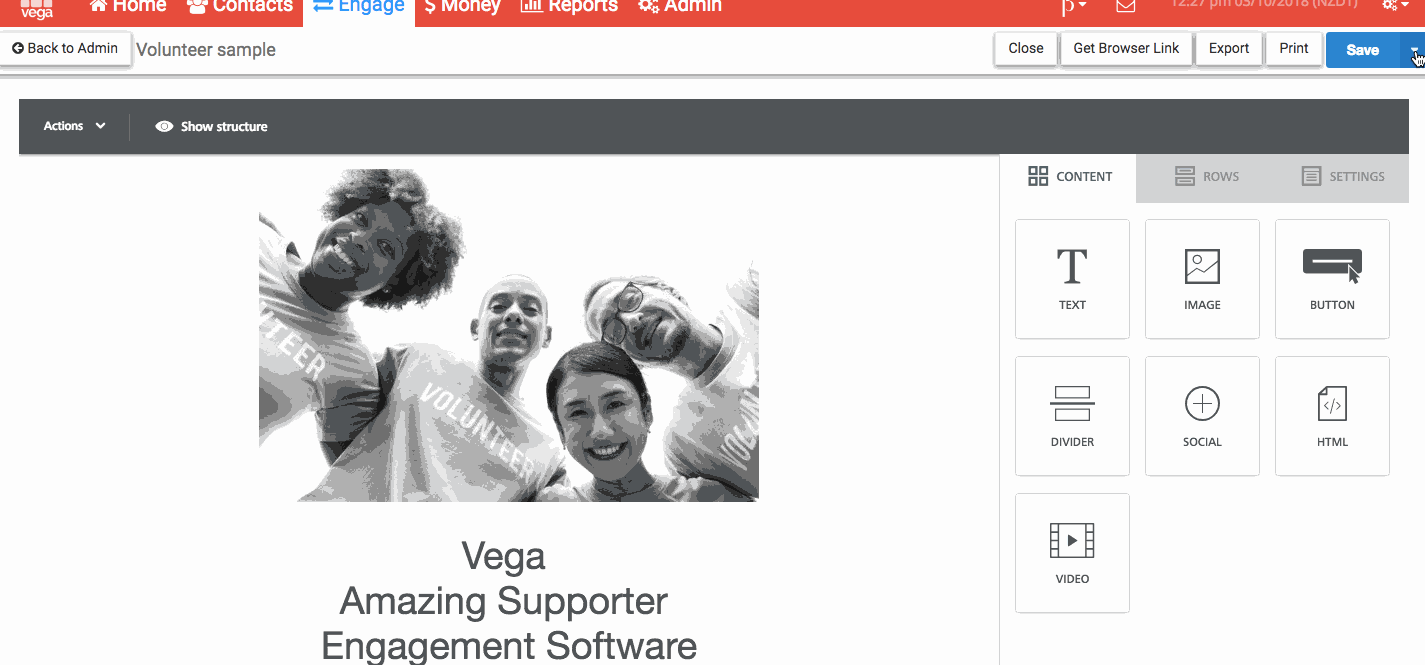 Note: The Save Us and the Template Manager functions can be used to delete templates. Be aware once the document is deleted cannot be recovered.