Active and inactive contacts
All contacts in Vega can be either active or inactive which is controlled by the 'Account Status' under the contact in the Contact section.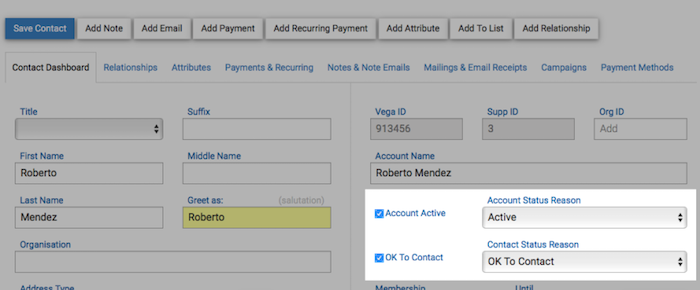 Active contacts will show up in searches, queries and reports. Inactive records can be searched using the 'Search Inactive Contact' option and some preset queries. 


An account status reason can also be selected which is customisable as an attribute. 
OK to Contact mail status
Whether a contact is contactable can also be controlled in the Contact section. Vega will only allow contacts who are 'Active' and 'OK to Contact' to be included in Engage post or email campaigns. 
Please note that one-off emails can be sent to contacts regardless of their account or contact status.
As with account statuses, the contact's mail status can also have a customisable reason.
Once you have finished editing the Contact details you can then save the changes by clicking on the Save Contact blue button on the top left of the page.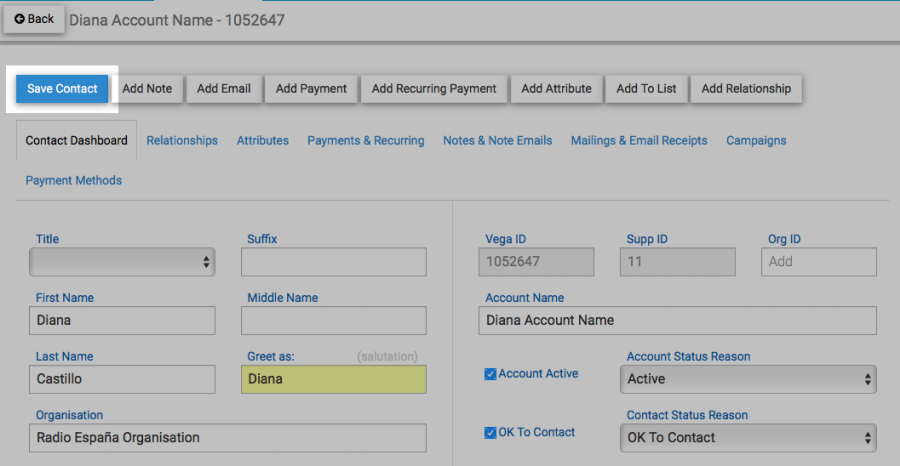 The system, however, allows you to delete contact records when they are registered as possible duplicates. This can be done from the Admin - #Merge Customer page. If you leave the option 'Delete After Update' box the contact you don't longer need will be deleted.