Before we guide you through this article please be aware the Data Upload feature is in the first phase of pre-release testing, changes and improvements are under continuo development. To access this tool make sure you TURN ON the beta functionality in the Admin - Organisation Profile section.


Large spreadsheet files are often used for data import in Vega under the Admin section. However, thinking of quick data imports we have created a new feature to make this process quicker and easier. You can now use the 'Upload' feature from the Contacts page to quick import Contacts, Notes and Payments. 
Note: Different from the Import Data function from the Admin section this new feature has a limit of 1000 lines per import.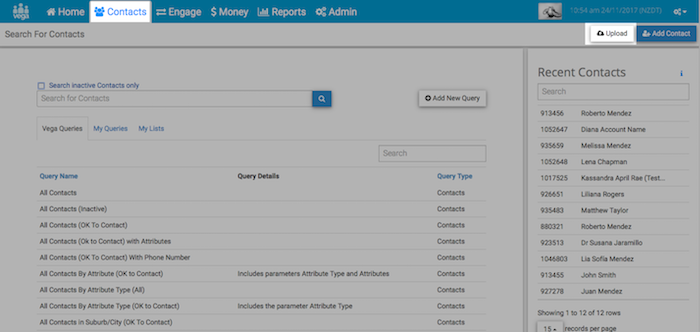 Enter import name
Select the import type: Excel- people, Excel- Notes, Excel- payments
If you don't have a template download it by choosing template type from the dropdown and clicking on the download
Fill the data in template
Click or drag the data template file in file uploader on the page
As soon as you upload the file, The data will show in the tables on the page
If you imported the People/Contacts there will be 2 tabs in the table New and Existing and If you import Notes or payments will not be a Tab. 
New: It will show the new contacts you are importing 
Existing: It will show the Existing contacts which you imported for the update
Choose which data you want to import:
Add and merge all data: It will import new data and will merge changes of existing data after data import
Only new contacts: It will import only new contacts showing in the New tab of the table
Only merge contacts: It will import only Existing contacts and will update their data
If you want to create a list of the data after the import then Click Yes or DO if you want to create a list option to assign a list name.
If all set then click on Upload Data.: you will get the message that your data has been imported successfully.