Query Maintenance
This form is designed to help you manage your lists of supporters.
1. Accessing the form
The query maintenance form can be accessed by clicking the 'Query Maintenance' option in the Admin section.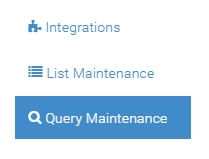 2. Query Maintenance
All your available queries, will be displayed here, sorted by most recent created date.  To delete a query, find the query in the grid, select it (or as many as you want to delete) using the check box and click the Delete selected button.