Print PDF is used to generate a PDF download of your chosen document for each contact in your recipient list. This can then be printed and posted as a mail campaign and will be recorded on each recipient contact.
1. First, have you set up your attributes to segment your data?
2. Create your query or list or find the preset query you will be using to get the correct list of recipients to receive your PDF campaign.
3. Now you know your audience, Create the Document which will be downloaded for each contact, you can use merge tags in your document to personalise it.
4. Finally, Create your campaign action.
Go to the 'Engage' section in Vega and click the Campaign Header you would like to generate a PDF campaign for or create a new one
Click 'New Action' and select action type 'Print PDF'
Name & Schedule Your Letter
Select a 'Name' for your bulk document e.g. 'Christmas Appeal DM' and the 'Code' could be an abbreviation 'CADM' or other code as per your organisation's coding structure
If your bulk document is a fundraising appeal you may want to include a fundraising 'Target'
If you are sending your document right away, the date and time will default to the current settings. If you want to schedule the generation of your bulk document for tomorrow or a week's time, select a different 'Start Date' and 'Time'.
If you click on 'Advanced Settings' you can include additional settings for the campaign, e.g. the 'GL Code', 'Response Letter (acknowledgement document) and Bank Account which you would like to attribute any financial responses to. These will be automatically selected when this campaign action is used in the batch payments.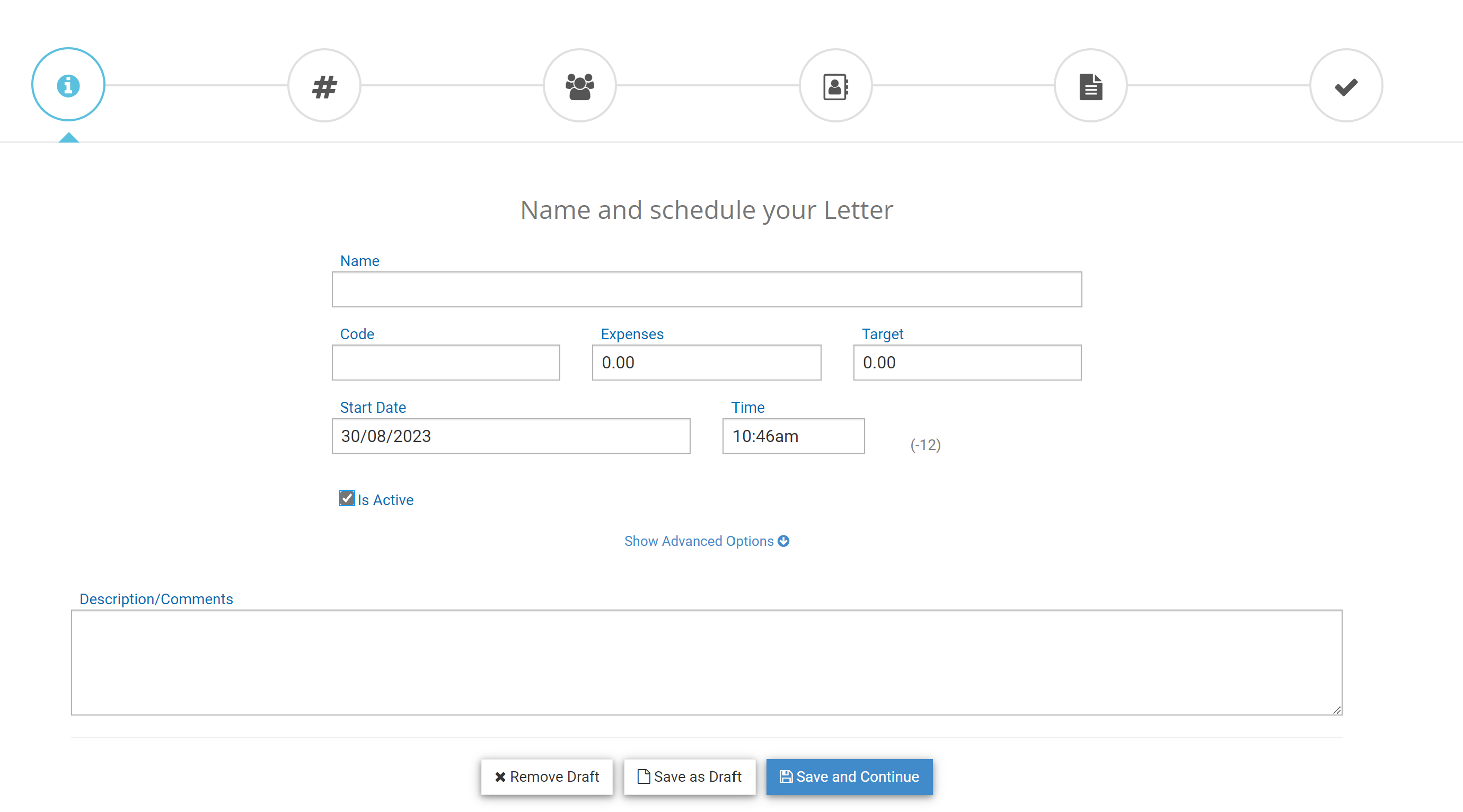 Save and continue to proceed.
Next steps include adding the attributes and roles to the campaigns if you have specific staff or volunteers assigned for the campaign. There is also the option to add Tags to your campaign action, these can be used to filter the campaign dropdown when adding a payment in vega. You can skip these steps if not required.

Select Your Recipient List
Your recipient list will either be a predefined saved list, preset vega query or a query that you have created and saved yourself.
Select Preset Vega Query or Saved Query and you will see a list of queries to choose from or select Saved List to choose from your lists.
You can use any of the above options to add or remove recipients, for example, you could use a vega preset query All Contacts (OK to Contact) to add recipients and the use All Contacts by Attribute preset query to exclude contacts with a particular attribute who do not want to receive this type of comms.
Your Total Recipients will show a count of the number of contacts who will be included to receive this campaign.
Click Show Recipients to open a pop-up with all included contacts. From here you can do final checks on the recipient list such as check for test contacts, known exclusion contacts etc. Use Add Person or Remove Person to manually add additional contacts or remove some from your recipient list.
If needed, you can click Clear Recipients to start this process again.

Select and Edit Your Letter Content
Click the Document Template dropdown to choose your previously created document. You are able to make edits to the document from here and have the option to Update Existing Template or Save as a New Document once you select a document.
If your letter recipients and content, you can select Save as Draft to come back to it later or click Save and Continue to proceed.

Review and Generate

You can review the summary and click Generate to generate the PDF document.
If you choose to Save Draft it will show in your campaign action list and you can open this to continue editing or select the Generate button to start the download process at a later time.
Vega will now queue this action in the generate documents service and you will receive an alert with a link for your download once this has been created
The campaign will be recorded on each contact on the Campaigns, Email Metrics & Lists tab with the method as Direct Mail and any donation made towards this campaign will show for Amount.