Here is a list of handy hints when using Vega and related products to make life as easy as possible.
It is sometimes easier to have many tabs open within the Vega application, you can do this by right-clicking on a tab or option and clicking Open link in new tab, this means you can be looking at multiple aspects of Vega by easily going between multiple tabs and you will remain logged in to all of them:
When a report is exported to Excel, you may need to update the amount columns so that they are formatted as a number and can be summed. You can do this by highlighting the column and selecting Data > Text to Columns to convert all data to a number:
Another Excel error can come from losing the leading zero in your spreadsheet and importing the number without this. This is common for NZ postcodes and phone numbers. The cell format will default to General and this needs to be changed to Text to keep the leading zero. There are two ways to do this, right-click > Format Cells > Category: Text or select Text from the Number group dropdown:
As soon as you type a zero(s) before the number, Excel will display a small green triangle in the top-left corner of the cell indicating that something is wrong with the cell contents. To remove that triangle, select the cell(s), click the warning sign, and then click Ignore Error.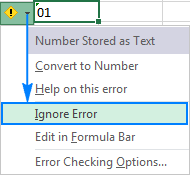 The following screenshot shows the result:

Another way to keep leading zeros in Excel is to prefix a number with an apostrophe ('). For example, instead of typing 01, type '01. In this case, you don't need to change the cell's format.