Export Service
Changes have been made to improve the deliverability of large amounts of query data to users. From now on when selecting Export to Excel in the Contacts --> Preset Queries/Queries/Lists selections the export will be sent to an export service which is running constantly and checking for new exports. Once an export is found the service exports the data and the user is alerted as to where they can find their download.
Some of the larger queries (i.e. All Contacts) will no longer have the option to be viewed in the results grid to stop the browser client session expiring and no results being returned as a result.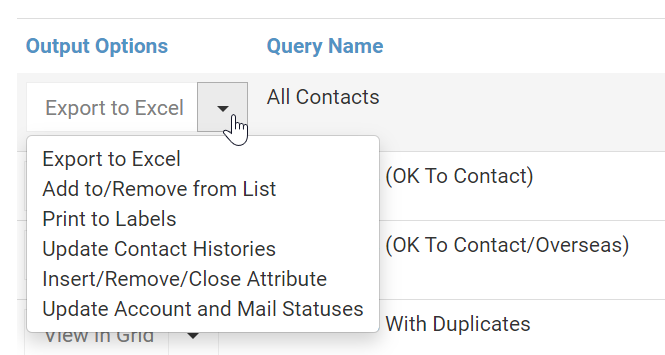 Fig 1.
Restricted output options
Contacts Page
The output option radio buttons have been replaced with a drop down button linked to each preset query/query/list in the contacts form. instead of clicking on the query/list name to run the query now the user will have to click the output option button. The button drop down will default to the first option in the list either View in Grid or Export to Excel depending on the query size.

Fig 2.
All output options