Once you have added your specific query criteria and any necessary filters it is time to view the results.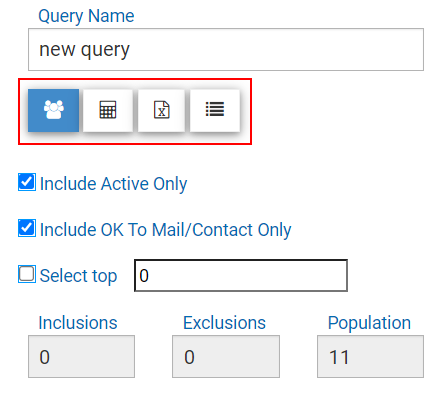 On the left-hand side of the query tool, you have some action buttons and stats available.
You can calculate the population of your query by clicking the calculator icon, this will give you a population number of contacts who fit your specific criteria.
To view the results in a grid, with the information for each contact as per your output columns, click the blue people icon.

From your results, you can browse the rows of data to see the contacts included, some may be duplicated if they have data that fits multiple criteria.
There is a search bar to easily find specific contacts based on any data, specific dates, names, or values

Click the Excel icon to export your results to an excel file, this option is also available from your results grid.
Click the list icon to add your contacts
Ensure you save your query before leaving the query tool
Your query is also now available to view from the Contacts tab > My Queries
Viewing your query from here will include the same output columns as added in the query tool. Please read through the article on Accessing and Viewing Queries for more detail on available actions now your query is complete.