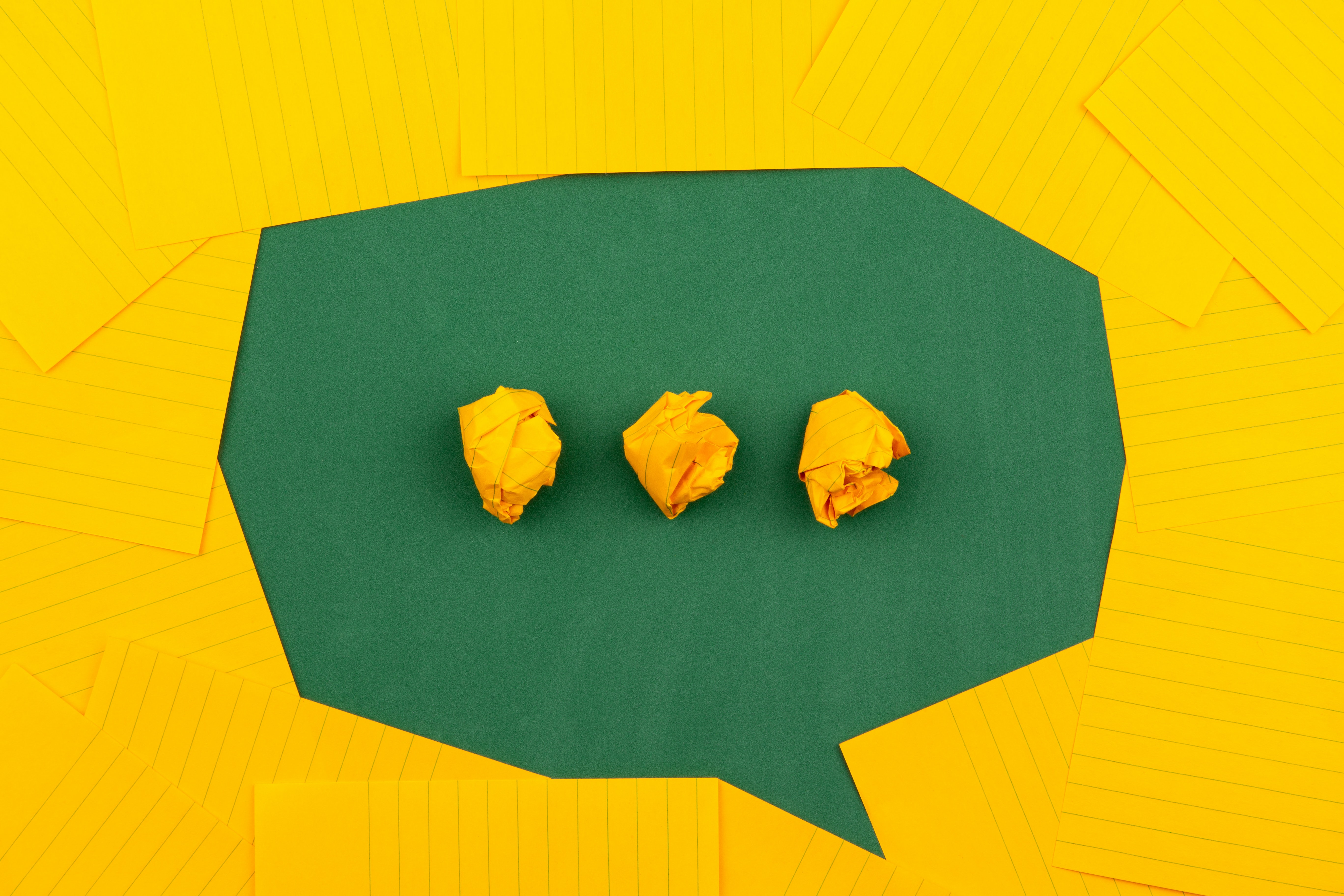 How do you get more prospects and supporters to open and click your emails? Make sure that your email campaigns are relevant, personal, and expected (i.e., recipients have actually asked to receive them).
WHAT IS DYNAMIC CONTENT?
Dynamic content is any type of content in an email that automatically adjusts based on set criteria in your database, including demographics, preferences, subscriber behaviours, and time and location. So, by using dynamic content, you can customise a single email send to provide subscribers with an individualised experience and one-to-one communication based on their preferences, needs, and behaviours.
If you use dynamic content to help make your emails more relevant and personal — rather than simply sending out the same email message to all subscribers on your list — you'll find that your email engagement (e.g., opens and clicks) will increase. In addition, higher subscriber engagement will help improve your email deliverability. And with high email engagement and deliverability, you can increase the frequency of your email sends, which often drives up revenue.
So how exactly does this work? The dynamic email content is all about personalisation and segmentation. It can generally be approached in one of three ways:
Demographics
Preferences
Email data
DYNAMIC CONTENT EXAMPLES
Location
One of the easiest (and most effective) ways to create dynamic email content is according to location. Sending dynamic content that's based on location ensures that your emails are highly relevant to subscribers.
Interests
Work on personalising your emails based on subscriber interests.
The ways you can segment based on demographic don't stop with just location and interests. You can also use parameters such as:
Gender
Donor Type
Education level
Occupation
Religion
Ethnicity
Age
Family
When you've decided how you want to segment your dynamic email content, it's time to collect the information you need.
EMAIL PREFERENCES
Preferences
Segmenting your emails according to demographics is effective when it comes to getting more conversions. Learn this information about your subscribers by asking them a few basic questions when they initially sign up to receive your emails. vega provides you with tools like sign up widgets and surveys within the platform to make this easy for you.
If you're an animal welfare organisation, for example, you could provide three choices for people when they first sign up: Would they like to receive emails about dogs, cats or both? Then send them the content they ask for.
Your vega sign up form should have those questions, as multiple selections option, that way, they can tell you exactly what kind of emails they want to receive.
Data
In addition to directly asking your subscribers which emails they'd like to receive, you can use the email engage section to keep track of your supporters' opens and clicks. You can get a feel for what kind of content a certain supporter prefers to see by tracking what they engage with and don't engage with. You might learn things about your supporters that they don't even realise about themselves!
DYNAMIC EMAIL CONTENT IN THE EDITOR
Once you've figured out the basics of your dynamic email content, it's time to get down to the nuts and bolts of creating the email itself. You can create dynamic emails in the vega document template manager using features like merge tags.
When you add merge tags to a template, the system will replace that syntax with different text when the email is sent. To add merge tags in a block of text, simply click the "Merge tags" button along the top toolbar: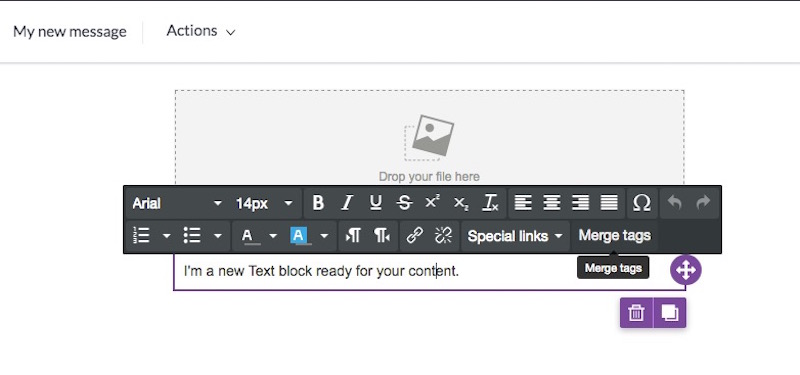 From there you'll see a list of options (such as first name, last name or account name) from various connectors like payments, logo and membership. Choose the one you need to insert the merge tag into the text.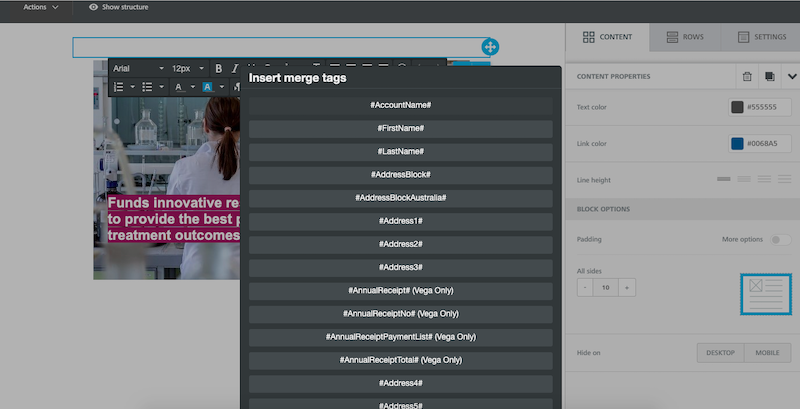 Dynamic content can be so much more impactful when you go beyond just adding in a "Dear #FirstName#" at the top of an email campaign. Here are some examples of how to make your emails more relevant and personal by leveraging dynamic content:
Switch out images in promotional email campaigns based on criteria such as age and gender of different subscriber segments
Create urgency and build excitement by using dynamic images, such as clocks or timers that count down until an event begins
Adjust blocks of copy in an email message based on where a subscriber is in your donor journey funnel
Provide information about special events based on subscribers' locations
Include information based on contact categories of supporters' previous donations and clicks on browsing behaviour
Send personalised birthday emails using workflows rules
Include individual membership rewards-program updates in promotional emails.
With the vega document template manager and engage functionalities, you don't need coding background to create dynamic content. Choose pre-designed templates and then use the editor to design beautiful and effective dynamic emails!
source BEE Editor and FulcrumTech