The widget configuration can be accessed from Admin > Widget Configuration, once your event has been created in Engage and the option to Create a Widget is ticked:
Click the Event type to see your existing event widgets with the option to edit any of these and open the configuration:
Select Financial from the configuration options on the left-hand side.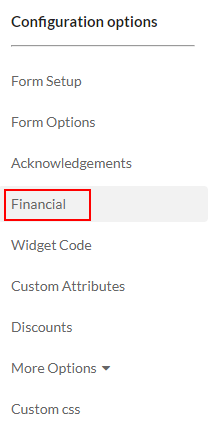 In this section, you will decide the Campaign action and GL Code to be assigned to any additional donation made during the ticket purchase/ event registration.
This is important so that your organisation can easily report on campaign results and your financial manager can easily reconcile funds.
Please note- The campaign for ticket purchases will always be that of the event campaign action. The GL Code for ticket purchases is set in the event configuration in Engage.
| | |
| --- | --- |
| Donation financial | Explanation |
| | All active GL Codes will be available from this drop-down. Each additional donation will be coded to this GL Code. |
| | All active Campaign Actions will be available from this drop-down. Each additional donation will be coded to this campaign. |