The event widget has a lot of customisation available and here we will walk through each step of configuring this powerful widget.
For the event widget, you first need to create your ticketed event in Engage or create your RSVP event in Engage and tick the option to create a widget.
From the configuration of both event types, you can click configure underneath the widget code to be taken to the widget configuration for this specific event widget:
or access this any time after your event has been saved from Admin > Widget Configuration:
Within the widget configuration page, we will see the types of widgets available.
Click the Event type to see your existing event widgets with the option to edit any of these and open the configuration:
The event widget has a list of configuration menu options on the left-hand side and we will go through each of these in this series of articles.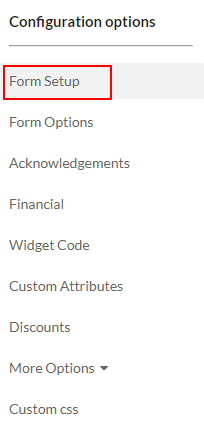 Form Setup
The detail for each field is explained below:
| | |
| --- | --- |
| Form Setup | Explanation |
| | This will already be set as your event name but can be changed here if required. This will only change the name of your widget, not the event itself. |
| | This will display the selected document as a banner, above the widget, when a personalised GUID link is not being used. |
| | This will display the selected document as a banner, above the widget, when a personalised GUID link is being used. |
| | This will display the text written in the text box above the widget when a personalised GUID link is used and no document above has been selected. |
| | When a document is selected for Terms and Conditions there will automatically be a tick box added above the submit button and a link to View Terms and Conditions. This will open a new webpage with the document displayed: |
| | Content written in this text box will be added alongside the above checkbox. If no document has been selected, this text will not be displayed: |
| | The attribute selected here will be added to every contact who registers/ purchases tickets through this event widget. |