A Campaign in vega defines any appeal/event/initiative for your organisation that involves communicating with and/or soliciting payments from your supporters, tracking responses, and resulting income. For example, a Campaign could be -
February Tax Appeal
Special World Charity Day
Gala Dinner Event
Quarterly eNewsletter
These are structured as a Campaign Header and a Campaign Action or series of coordinated actions to achieve the desired outcome.
An Action in vega defines the channel by which you communicate with your supporters during a campaign.
A campaign could have one or multiple actions. Here is an example of how a campaign may be structured in Vega -
| | |
| --- | --- |
| Campaign | Actions |
| Special World Charity Day | Direct Mail |
| | Email 1 |
| | Email 2 |
| | Event |
It is important to plan out your campaign structure in advance for how you would like to organise these to best suit your needs.



Creating a new Campaign Header
Go to the 'Engage' tab.
Click the 'Add Campaign' button in the top right-hand corner.
This will display the pop-up 'Create A New Campaign' to enter the campaign details.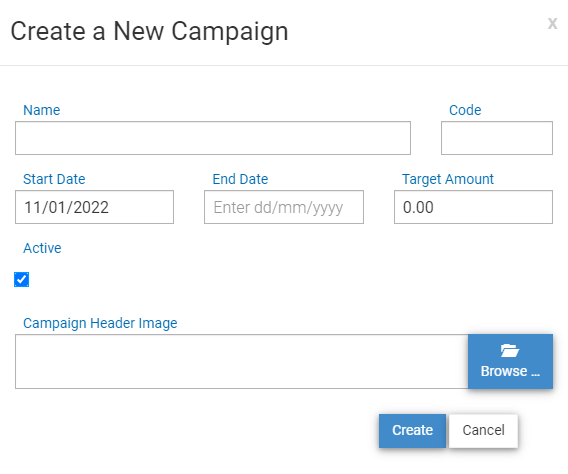 | | |
| --- | --- |
| Campaign Field | Explanation |
| Name | Enter the name of your campaign header, for example, Special World Charity Day. This is a required field. |
| Code | Enter a short-hand code for your campaign header. |
| Start Date | This will default to the current date. Enter the start date of your campaign header. This is a required field. |
| End Date | It is optional to set an end date to your campaign header, this will restrict the date that actions can be added within the header. |
| Target Amount | If you have a target amount of money to raise for all actions within this campaign header it can be entered here to track your progress. |
| Active | This will be ticked as default when creating a new campaign header and shows that it is active. |
| Campaign Header Image | You can upload an image to visually brand your campaign in vega, click the Browse button to find and upload your image. |
| Create | Click Create once all details have been entered to create your new campaign header. |
| Cancel | Click Cancel if you wish to cancel out of the pop-up window and not create the new campaign header. |
When you create your campaign header it will also create a default campaign action, displayed as a flag icon. To use a campaign on a payment you need to select both the campaign header and campaign action so this default action allows you to allocate funds to the header as well as any specific actions that are later created.
A campaign header can also be edited by clicking Edit Campaign which will display the same pop-up used to create the campaign. The details can be edited and then saved.
If you update a campaign header to inactive then all actions within this will also be updated to inactive and would need to be updated individually to change back to active. Inactive campaigns are still available to be used in the query tool and under Insights for reporting purposes.
Viewing campaign headers
On the Engage tab, you can view all campaign headers by Title, Start-date, Number of Actions, and Total Payments and sort by ascending or descending. There is also a search bar to quickly find a campaign by title.
There are active and inactive radio buttons that you can toggle between to view your inactive campaign headers.
| | |
| --- | --- |
| | The left-hand side of the Engage tab provides a snapshot of your total active campaigns, the top campaign by income, and top donation. |
When you have campaign actions created within your campaign header you can track how well these are doing individually and your campaign header altogether.
Clicking a campaign header will open further detail to display the most recent actions and give you stats for payments received by any of the actions.
You will be able to see the total payments received so far, the average payment, and what this is as a percentage of your campaign header target.
Underneath, up to 5 of your most recent campaign actions, will be displayed. Each campaign action is represented by a different icon and will display different statistics for the population, target amount and amount received so far.
Click 'Show All Actions' to see further detail or edit any of the associated actions with this campaign header:
You can toggle between the Active and Inactive radio buttons to see inactive campaign actions within this header.
To create a new campaign action follow the article here.