What it does
The Template Manager includes a built-in file manager. The file manager is the component that you will use to browse, search, and select the images and documents that you wish to use in your document.
With the handy file manager you can:
Browse, search, and sort existing files
Import new files
Create folders
Preview and insert images into your document
How you access it
The file manager will load in several scenarios.
a. When you click on the Browse button in an image placeholder, which is displayed when you drag and drop an image content block into a message. 
b. When you click the Change image button in the image properties panel.
c. When you click on Link file when working with images and buttons.
How it looks
The file manager will open over the editor, covering the entire working area. This allows you to browse your files without worrying about your screen size or resolution. 
You will find a top section with actions and navigation helpers, with most of the space used to list your files and the information you need to work with them. Here is a visual example.
How to upload files
The quickest way to upload a file into the file manager is to drag it from your computer to the file manager window, dropping it into the upload area.
You can also click the blue Upload button to browse your computer files.
The Import button allows you to import files from an external source as shown below:
There are also lots of free, quality photos to use in your documents. Click Search free photos for a wide range of stock photos to choose from. Search for a keyword to see a variety of options to use. Each image preview will tell you where it is from, give a link to the original image and allow you to import: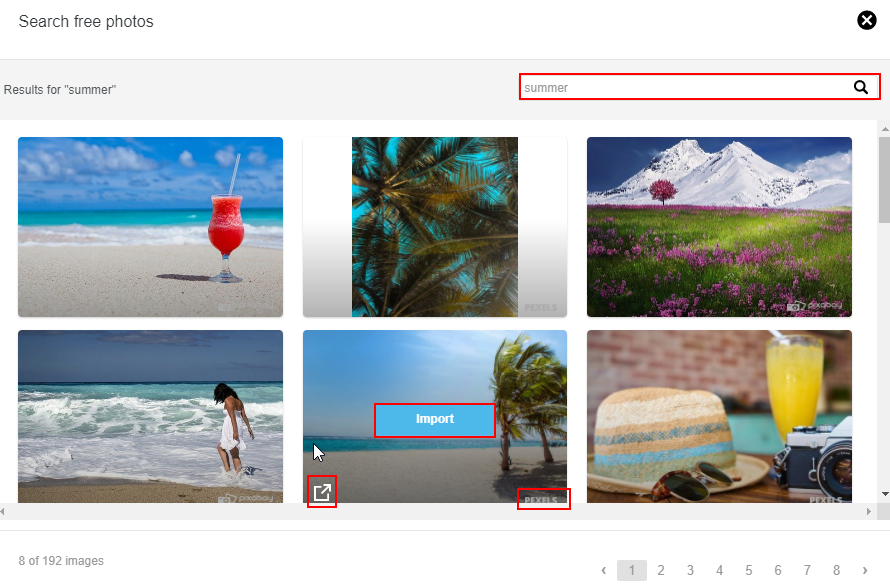 Upload limits: 
The maximum allowed file size is 5MB.
Allowed file types are images, pdf, MS Excel, MS word, other common text documents.
Only .jpg or .png files can be inserted as image content, other files can be used to link to
How to browse or search files
To locate your desired image or document, browse your folders and order their content by name, date, size or type by clicking on the sort labels on top of the list.
An arrow icon next to this labels means that this is the current filter, and its orientation will tell you the order, ascending or descending.
You can also use the search bar to quickly find an image by its name. Please bear in mind that this search is performed only in the current folder, and not in your entire repository.
There are two view options for the file manager, Grid or List view, these are accessed by the icons next to the search bar:
| | | |
| --- | --- | --- |
| Name | Icon | View |
| Grid View | | |
| List View | | |

How to use files
In the List view, you can move your cursor over a file or folder, to highlight the row and the available action icons will be shown on the right side to preview, delete or Insert a file and for folders, you can delete. In the grid view, these icons are available to use and are shown on each file.
If you want to delete multiple files or folders, use the checkboxes to select them, the delete action will be shown on top of the list. Only elements that can be deleted will have a selectable check-box.
How to organise folders
You can create the folder structure you prefer to organise your files. To add new folders, use the Add folder icon, to the right of the search bar.
For your folder names, you can use letters (upper and lower case), numbers, spaces, periods (.), hyphens (-), or underscores (_).
To navigate to the parent folder use the top breadcrumb. Clicking the home icon will take you to your root folder.
Current limitations
The following file extensions cannot be uploaded to the file manager: .js, .cjs, .mjs, .php, .phtml, .php3, .php4, .php5, .php7, .phps, .php-s, .pht, .phar, .HTML, .zip, .rar, and archive file formats.
The maximum allowed file size you can upload is 20MB.
You can't move files from one folder to another one.
If you are uploading an image that is wider than 1920 pixels, the integrity of the image may be altered upon upload or import. The image will be resized to be no wider than 1920px. In other cases, the colors may change, and gifs may lose frames. Consider making sure that any images that you upload are no wider than 1920px.