The Donation widget has a lot of customisation available and here we will walk through each step of configuring this powerful widget.
You can create and edit widgets under Admin > New Widget Configuration:
Within the widget configuration page, we will see the types of widgets available. We can create new ones (click the 'Create Donation Widget' button) or edit any existing ones (find the widget you want to edit in the Widget Name list and click the 'edit' button next to it):
The donation widget has a list of configuration menu options on the left-hand side and we will go through each of these now: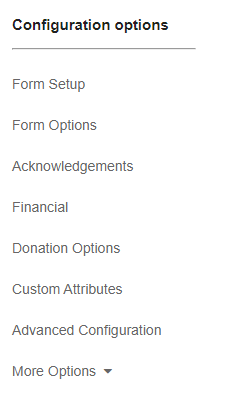 Form Setup
Detail for each aspect is explained below, with the corresponding number.
| | |
| --- | --- |
| Form Setup | Explanation |
| | Give your widget a name and click Save to see the default setup |
| | This will display the selected document as a banner, above the widget, when a personalised link is not being used |
| | This will display the selected document as a banner, above the widget, when a personalised link is being used. Supports merge tags- |
| | This will display the text written in the text box above the widget when a personalised link is used and no document has been selected. Supports merge tags- |
| | When a document is selected for Terms and Conditions there will automatically be a tick box added above the submit button and a link to View Terms and Conditions. This will open a new webpage with the document displayed: |
| | Content written in this text box will be added alongside the above checkbox. If no document has been selected, this text will not be displayed: |
| | The attribute selected here will be added to every contact who makes a donation on this widget |
| | Content added here will be displayed beneath the submit button: |