Vega provides an all-in-one platform but sometimes you want something a little extra.
New Zealand Post Address Finder
One of the optional extras you can get from vega is integration with NZ Post.
The New Zealand Post Address Finder, instead of the free Google Address Finder incurs a small annual fee to cover vega costs in developing and supporting this great additional feature. This tool is perfect for organisations that communicate by mail and use an SOA (Statement of Accuracy) to save on postage; up-to-date address data inside vega!
The New Zealand Post Address Finder can be used to search for any future NZ addresses entered into vega or a vega widget (not for existing addresses). The free Google Address Finder will continue to be used for all international address searches.
With this feature enables, the address search bar will display a dropdown for NZ or Global in a contact: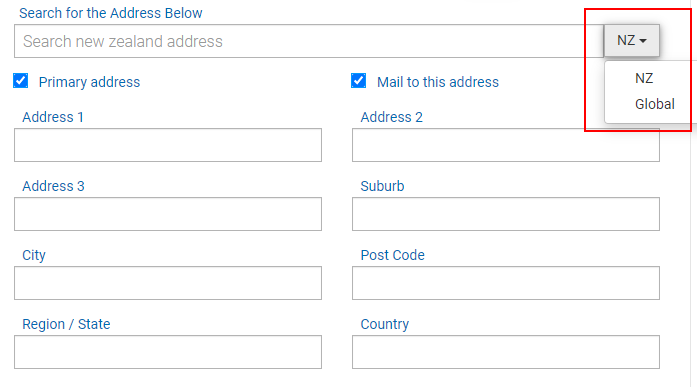 When NZ is selected, the NZ Post address finder will be used and when Global is selected, the Google Address finder will be used. This will also be used if a contact is edited from within a batch.
In a widget, the country field for the address section will default to your organisation country. With this feature enabled, the NZ Post Address Finder will be used when New Zealand is selected as the country and Google Address Finder will be used for any other country.